Lots of news to share today. Not least of all is our name change. Glitchwerk Publishing is now 01 Publishing. We believe that the new name better expresses our company and the types of books we will be offering. We are sorry for any confusion this may cause, and the glitchwerk.com url will remain active and direct people here to this site.

Next, I want to make sure that everybody is aware that Titanium Rain is going to be adapted into an audio drama by the AudioComics Company. You can read all about it in the official press release at AudioComics Company.com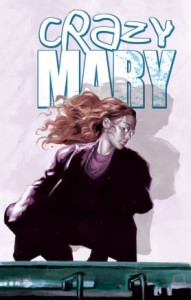 Also, 01Publishing is happy to announce the addition of Crazy Mary by Mike Colbert and JK Woodward to our catalogue of titles. We are very excited to add this title and news about it's release dates will be coming soon. Please check out the "about" page above for more information.
And finally, our own Josh Finney and Kat Rocha will be exhibiting at the Anime Expo in Los Angeles on July 1-4th. Come see them in Row 1, Table 28 in Artist Alley. They will have books, comics, art and more available!