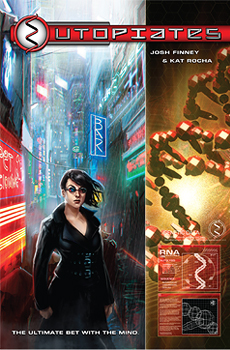 The book that started it all.
10 years ago, creators Josh Finney and Kat Rocha published their first comic, Utopiates: The Ultimate Bet with the Mind. A cyberpunk noir tale of drugs, crime, and what it means to be human in a broken society. Following in the footsteps of Philip K. Dick, William Gibson, and Jeff Noon, Utopiates won much acclaim among the comics and science fiction community and cultivating a following from those who were hungry for more dark and gritty graphic novels that didn't pull any punches. This set the stage for other hard hitting projects like Finney's award winning Titanium Rain audio drama and Rocha inevitably founding 01Publishing.
To celebrate 10yrs of "mainlining memories" 01Publishing is proud to announce a give-away promotion hosted by GoodReads.com to introduce a whole new audience to the world of Utopaites. Click on the link below to enter for your chance to win a free copy.
Purchase your copy of Utopiates from the following retailers or order it from your local bookstore.
Click Here to read the preview