FOR IMMEDIATE RELEASE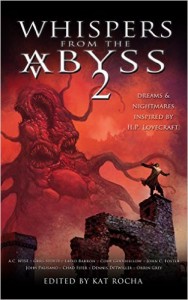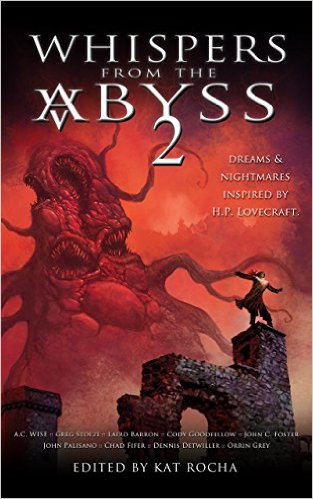 01Publishing is proud to announce the October release of WHISPERS FROM THE ABYSS 2: The Horrors that Were and Shall Be. Originally published as an eReader only title, the acclaimed anthology is now available in hard copy thanks to popular demand by fans of the series.
Edited by Kat Rocha (Pseudopod) and featuring cover art by Patrick McEvoy (Casefile:ARKHAM, Lost in Space), the collection features 25 Lovecraft-inspired tales created specifically for readers on the go. Four of the included authors (Laird Barron, Cody Goodfellow, John Palisano, and Jonathan Sharp) have received Honorable Mentions in Ellen Datlow's Best Horror of the Year Vol.8 for their contributions to this volume. Other authors include Greg Stolze (Delta Green), A.C. Wise (Future Lovecraft), John C. Foster (Dead Men), Orrin Grey (Painted Monsters & Other Strange Beasts), Dennis Detwiller (Delta Green), Chad Fifer (The H.P. Lovecraft Literary Podcast), Konstantine Paradise (Coven), and many more.
And just in time for Halloween, fans of the series can join editor Kat Rocha and other contributors at the launch party hosted by San Diego's premier Sci Fi and Horror bookstore, Mysterious Galaxy on October 30th.
WHISPERS FROM THE ABYSS 2 will be in stores nationally October 4th.
Praise for Whispers from the Abyss 2:
This anthology solidly delivers an array of Lovecraft inspired tales. Most tales share a fresh perspective rising above Lovecraft fan fiction. The best of the bunch carve their own path through the mythos to great effect.  –  Jaffa Kintigh / Jaffalog
Whispers of the Abyss Volume 2 is successful at delivering Lovecraft-inspired stories on a short scale. The intended audience may be folks on the go, but a wider audience will definitely appreciate them. – Nicholas Diak / Fanbase Press
Table of Contents
Michele Brittany :: Foreward
A.C. Wise :: We Are Not These Bodies, Strung Between the Stars
John C. Foster :: His Carnivorous Regard
Orrin Grey :: The Labyrinth of Sleep
Nathan Wunner :: Death May Die
Dennis Detwiller :: Knot
Jonathan Sharp :: Skoptsy
Cody Goodfellow :: Red America
Ferrett Steinmet :: Shadow Transit
Deborah Walker :: Baby Rhyme Time
Tom Pinchuk :: Nyarlathotep's Way
Laird Barron :: Strident Caller
John Palisano :: Lucky Chuck Takes the Sunshine Express
Michael Hudson :: Five Minutes or Less
Chad Fifer :: The Baby Downstairs
Robert Stahl :: Gifts
Joel Enos :: Now We are Nine
Samuel Poots :: The Great Old Thing in the Fridge
Marc E. Fitch :: God Does Damn the Mind
Greg Stolze :: In the Light
Richard Lee Byers :: Kickstarter
David Busboom :: The Vindication of Y'ha-Nthlei
Konstantine Paradise :: Echoes in Porcelain
Sarah Hans :: Shadows of the Darkest Jade
Hunter James Martin :: The Dreadful Machine
Kevin Wetmore :: Notebook Concerning the Class Struggle in Dunwich, Found in the Ruins of a Construction Site