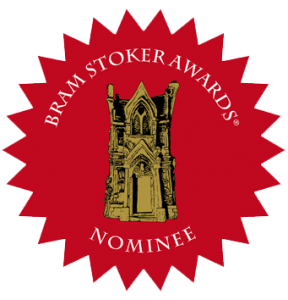 Congratulations to Nicole Cushing/The Sadist's Bible for earning the Stoker Award Nomination for Superior Achievement in Long Fiction!
The Stoker Awards are the "Oscars" for Horror and Dark Lit. Being nominated for a Stoker is a huge honor and 01Publishing is very proud of Nicole for this amazing piece of long fiction that has been recognized by her peers as deserving or recognition.
About Nicole Cushing
In 2016 Nicole was awarded the  Bram Stoker Award for her novel Mr. Suicide (Word Horde).  She has also written the Stoker-nominated short story collection The Mirrors and three stand-alone novellas (including the Shirley Jackson Award nominated Children of No One).
Reviewers have described her work as "brutal", "cerebral", "transgressive", "taboo", "groundbreaking" and "mind-bending". This Is Horror has said that she is "quickly becoming a household name for horror fans". She has also garnered praise from Jack Ketchum, Rue Morgue, Thomas Ligotti, John Skipp, S.T. Joshi, Poppy Z. Brite, Ray Garton, Famous Monsters of Filmland, and Ain't It Cool News.
Visit Nicole's Website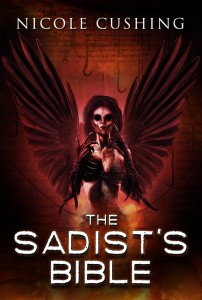 About the Bram Stoker Awards
from the HWA Website
Each year, the Horror Writer's Association presents the Bram Stoker Awards for Superior Achievement, named in honor of Bram Stoker, author of the seminal horror work, Dracula.
They are presented for superior writing in eleven categories including traditional fiction of various lengths, poetry, screenplays, and non-fiction. In addition, HWA presents an annual Lifetime Achievement Award to living persons who has made significant contributions to the writing of Horror and Dark Fantasy over the course of a lifetime. The gala awards presentation banquet takes place each year as part of Stokercon.
Nicole Cushing will be attending StokerCon this year at the Queen Mary in Long Beach Comic Con. As part of her CA tour, she will also be signing books at Mysterious Galaxy Books in San Diego on April 27th.
The Sadist's Bible is currently available on all digital platforms. PreOrders for the paperback edition are available now with an April release date.