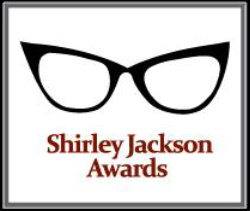 Hot on the heals of her nomination for the Stoker Award in Excellence in Long Fiction, Nicole Cushing continues to turn heads and amaze audiences with her latest transgressive and highly acclaimed novella.  01Publishing is very proud to announce that The Sadist's Bible has been nominated for the Shirley Jackson Award for Best Novella of 2016.
About the Shirley Jackson Awards The Shirley Jackson Awards have been a staple in speculative fiction since 2007. The awards are announced every year at ReadersCon in Boston Mass.
In recognition of the legacy of Shirley Jackson's writing, and with permission of the author's estate, The Shirley Jackson Awards, Inc. has been established for outstanding achievement in the literature of psychological suspense, horror, and the dark fantastic. The Shirley Jackson Awards are voted upon by a jury of professional writers, editors, critics, and academics.  The awards are given for the best work published in the preceding calendar year in the following categories:  Novel, Novella, Novelette, Short Story, Single-Author Collection, and Edited Anthology.
About Nicole Cushing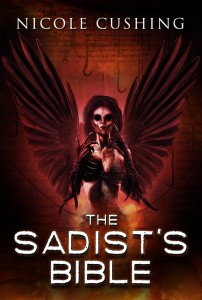 In 2016 Nicole was awarded the  Bram Stoker Award for her novel Mr. Suicide (Word Horde).  She has also written the Stoker-nominated short story collection The Mirrors and three stand-alone novellas (including the Shirley Jackson Award nominated Children of No One). Reviewers have described her work as "brutal", "cerebral", "transgressive", "taboo", "groundbreaking" and "mind-bending". This Is Horror has said that she is "quickly becoming a household name for horror fans". She has also garnered praise from Jack Ketchum, Rue Morgue, Thomas Ligotti, John Skipp, S.T. Joshi, Poppy Z. Brite, Ray Garton, Famous Monsters of Filmland, and Ain't It Cool News.
The Sadist's Bible is Available where all Paperbacks and E-Books are sold.