Yes, dear faithful readers. Today is a joyous day!!
For today, The Sadist's Bible by Nicole Cushing is now available on Audible and other audio book distributors!! Treat your ears to the words of the Broken Gospel as narrated by the wonderful Julia Duval and you make your travels this summer vacation season, or on your daily commute.
Listen to a free sample
Download your copy from Audible.com 
The Sadist's Bible has been nominated for both the Stoker Award and Shirley Jackson awards for Best Novella of 2016. Nicole Cushing won last year's Stoker Award for Best First Novel.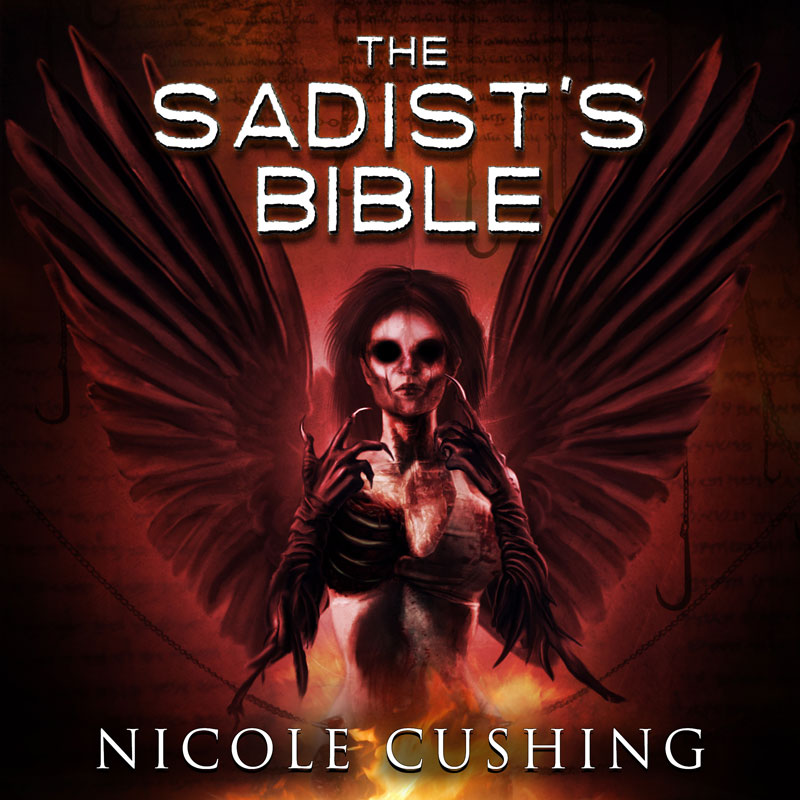 Genre: Transgressive Horror
Written by Nicole Cushing
Narrated by Julia Duval
Music by Jonathan Sharp
Special thanks to Lance Axt
Length: 2 hrs and 55 mins
Audio ISBN: 978-1945396953
What is heaven? What is hell?
Ellie lives with the fear that she is an abomination. An affront to God. If her Bible Belt community were to ever discover Ellie's desires for the intimate touch of a woman, then her husband, pastor, friends, and neighbors would all despise and shun her. But by way of the World Wide Web, Ellie finds a kindred spirit in Lori Morris, a beautiful young woman with a hideous secret. Brought together by their lust, their shame, and a shared sense of hopelessness, Ellie and Lori agree to end their lives in a single night of sex, torture, depravity, and finally suicide in a luxurious hotel. But Lori has another agenda: to escape an oppressive force that could be God, or possibly the devil. In truth, he's something far, far worse.
Just remember: He wants us broken.
Reviews from Amazon.com
A Glorious Trip to Hell
, January 3, 2017
This story is extremely well-written and edited, which is in itself is a treat. There is a slow built of characterization that is achieved through alternating points of view, which I think is very effective. We feel for Ellie, who is trapped in a world where other people's opinions and judgements are emotionally crippling and soul crushing. The constant threat of suicide hovers in the story, as we wonder if the women will really go through with it. Might they change their minds once they meet each other and possibly find the love, happiness, and acceptance that they so desperately crave? But, Lori has some secrets that Ellie might not approve of, that make the reader question Lori's sanity. In fact, both women seem to descend into madness. That is the thrill of this read. We are taken with them into what can only be described as a disturbing hell. By the end of the tale, we can't look away. Vivid descriptions of this place, that may be metaphorical or real (you decide), are at the… Read more
 Sweet suffering, April 18, 2017
Unflinchingly answers the age-old question of why there is suffering if god is in control. Why do innocent kids struggle with deformity? How is it that good people end up in agony? Getting to that answer is a visceral ride of sex and pain that doesn't let up. Disturbing in a way that makes you think, not just getting grossed out.