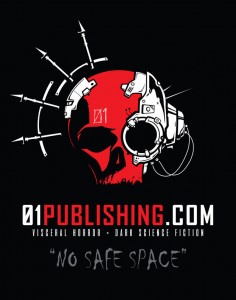 Since 2011, 01Publishing™  has been dedicated to producing the best in speculative fiction across a wide variety of formats including prose, graphic novels, and audio fiction. Our mission is to offer readers and audiences a clean break from a literary world that has become bloated with social justice agendas and movie pitches masquerading as books. At 01Publishing, there are no safe spaces.
CEO / Editor in Chief – Kat Rocha
Art Director / Editor – J. I. Finney
Music provided by Jonathan Sharp
Our Mascot – MK-01
For more information, read our FAQ
View our Print Catalog
01Publishing is distributed through Baker & Taylor, Ingram and Kobo.
01Publishing is a member of the Independent Book Publisher's Association and the Horror Writer's Association. 01Publishing is a proud supporter of Indie Bound and independent book stores.