Best Comic of 2014.
"…a must read for anyone looking for some alternate history in there comics."
-  Alternative History Weekly Report.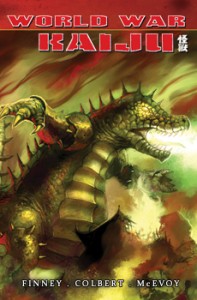 World War Kaiju : The Cold War Years
Genre: Science Fiction, Satire
ISBN-13: 978-0-9839230-4-6 
Created and Written by Josh Finney
Artwork by Patrick McEvoy
Consulting Writer Mike Colbert

"What if Doctor Strangelove created Godzilla?"
World War Kaiju is the story of an alternate history, one in which the atom bomb was never created and the ultimate weapon of mass destruction is the kaiju—fifty foot tall radioactive beasts spawned from the mysterious KAI-235 isotope. Follow the journey of one journalist as he teams up with a retired CIA operative to uncover the truth about the conspiracy behind the monsters…
…who are the architects of the inevitable Kaiju War?
…what is the shocking secret behind the mysterious KAI-235 isotope?
…where did Cuba manage to hide a crab monster the size of an aircraft carrier?
…why are rogue monsters appearing all over the world?
…how long can Tricky Dick keep these truths from the people?
Learn this and more within the pages of World War Kaiju, a graphic monster epic told in six parts!
World War Kaiju is a tribute to the kaiju genre in all its forms (both high and low). This story would never have been possible if not for the visions of Ishiro Honda, Eiji Tsuburaya, Shinichi Sekizawa, and Willis O'Brien. The brainchild of sci-fi author Josh Finney, WWK is a love letter to the golden-age of kaiju cinema. Brought to life on an epic scale by renowned fantasy artist Patrick McEvoy, it looks back to an era when the world loved atomic monsters, but feared the atomic bomb, and warps history in ways that only men in rubber suits can.
Want your local bookstore to order this book for you? Download the Information Sheet.
Praise and Reviews:
Shamelessly fun...this beautiful graphic novel seeks to be something different. – Kirkus Reviews
From the musings on historical events/people to the revisionist narrative and ideology, World War Kaiju feels dizzying in its aspiration and spirit…you are unlikely to see a more ideologically stuffed and yet adoringly created book released this year… – STARBURST Magazine
…the overall presentation and artwork is first rate.  - SF Crowsnest
The book is cool! A mix of sequential art in a painterly style… I enjoyed this quite a bit. -  Indie Comic Book Noise
Tense interrogations, twists, turns, and conspiracies. Great art, great story. To say anymore would spoil a wonderful read. Looking forward to Book two. –  Optic House
World War Kaiju looks flat-out gorgeous…the team's fondness for the source material makes itself felt through the attention to detail evident in the book's pastiches and the sense of glee that emanates from the volume's multiple action set pieces. – The Geekverse
My favorite part is the bonus bits after the story… Then they go deep, deep into the sci-fi science of the kaiju, and the diagrams and the big words are worth the price of admission. – Revolution SF
World War Kaiju is not just about monsters with fistifuffs… like the original Gojira, these monsters are metaphors, there's deeper meaning to them." - Planet X Control Room
Cleverly written and beautifully illustrated – Monster Attack Team
World War Kaiju is a reference-filled, often humorous Cold War tale that is sure to please kaiju fanatics. – Nerds on the Rocks
We see huckster Martians and hero scientists, along with tons of monsters no doubt inspired from films on both sides of the Pacific. The appendixes in the back are chock full of information and their earnestness makes for some real good humor… This parody of 1950s sci-fi was an entertaining read and I look forward to seeing book 2 – Alternate History Week
Half of the fun of World War Kaiju is slowly peeling away the layers of the story with Keegan and Hampton….Once you get into World War Kaiju, you realize that while it is a tribute, it's also an immense project rooted in world building, character study, and some funny, and oft-times rather poignant, political satire that all don't necessarily have anything to do with kaiju… – Nerd Binge